2023 Top 50 Biggest Companies in Security
2023-10-18
In a world increasingly reliant on technology, the importance of security cannot be overstated. From cybersecurity to physical security solutions, companies dedicated to safeguarding assets and information play a pivotal role in our daily lives. As we step into 2023, it's a good time to take stock of the top 50 biggest companies in the security industry. These firms are at the forefront of innovation and are trusted by governments, corporations, and individuals worldwide to protect what matters most.
Motorola solutions enter the top ten for the first time
Hikvision is one of the top ten global security companies ranked by revenue in 2022. The top 50 companies include: ASSA ABLOY, Axis, Motorola Solutions, Univision Technology, Tiandi Weiye, Anlang Jie, TKH Group, Hanwha Techwin. The combined revenue of Hikvision and Dahua in 2022 was 8.3 billion U.S. dollars and 3.8 billion U.S. dollars. Despite being affected by the epidemic, these figures increased by 7.73% and 1.21 percent, respectively, in 2020. Providing a stable growth soil for both is the robust development of the Chinese market.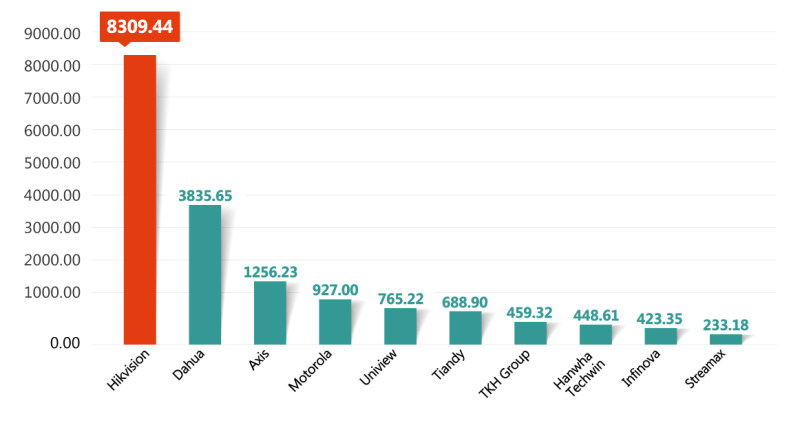 Top 10 Video Surveillance Companies in the World-Sales Revenue in 2022 (Million USD)
In this year's top ten list, Motorola Solutions made its debut on the top 50 list and ranked fifth, generating US$927 million in revenue from security equipment sales in 2022, a 30.75% increase from 2021.
A significant increase in Motorola Solutions' investment in security has led to remarkable results in recent years. Through the acquisitions of Avigilon, IndigoVision, Pelco, Openpath, Envision and other companies in recent years, Motorola has greatly expanded its product line. Having evolved from a wireless communication equipment manufacturer to a security vertical market, its brand influence is always strengthening with its video surveillance and access control solutions.

The new companies on the list include Motorola, Siteway, Intelbras, Gallagher, Fordtek, and Blue Star. All but Intelbras (Brazil) and Gallagher (New Zealand) are Chinese.
Global security top 50 Chinese companies are about to reshuffle
As the income of mainland Chinese companies accounts for the vast majority of the total income of all the lists this year, in addition to Taiwanese companies, there are a total of 16 mainland Chinese companies on the list, and their income accounts for a great deal of the total income of the list.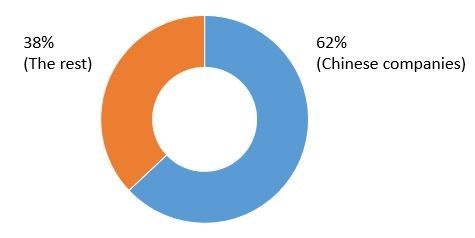 16 mainland Chinese companies accounted for 62% of the total revenue of the list
In this global market survey of the top 50 security companies, A&S found that some Chinese security companies have begun to shift their business focus and expand into fields other than security in recent years. The following is an example of how Infineon, a company that provides digital services, is currently mainly focused on digital services, and security is only about 50% of the company's business. Infineon sold its overseas assets March Networks to Delta, a Taiwanese company in China, and is still planning to sell its overseas business to Swann. As a result of this trend, Suzhou Keda's video conferencing business has also continued to grow as well as its video surveillance business. In light of this, it is quite possible that the top 50 global security companies in China will reshuffle their cards in the coming years.

Considering that the top 50 security guards in the world are selected based on their sales on the global market, and their financial statements, which are audited and approved by certified public accountants or accounting firms based on voluntary financial statements of listed companies or private companies, some well-known and outstanding companies are not included on the list for a variety of reasons. As well as this, the scope of this year's top 50 companies has been expanded to include domestic listed companies as well as multinational listed companies in order to be in line with current industry trends.

The list is only a ranking of the turnover of the past year, and it does not represent the comprehensive competitiveness of the company, let alone the future growth and growth potential of the company. We are also making the point again here that readers should not focus too much on ranking and rather pay more attention to the fundamental factors that make each company successful.
Declining corporate performance has become the main theme
One thing that's worth noting on this year's list is that many companies saw their revenues drop in 2020. Even though the total revenue for the top 50 security companies in 2020 reached US$25.12 billion, which was higher than the US$24.39 billion in 2019, more than half of them (28 companies) experienced a decline in performance during the same period. This is a situation that has never been seen before among the top 50 global security companies.

This unprecedented situation can be attributed to the profound impact of the pandemic on the global economy. Issues such as reduced project budgets, project delays, and disruptions in the supply chain have taken a toll on security companies. According to Danielle VanZandt, an industry analyst at Frost and Sullivan, "The global security market faced significant disruptions in 2020 due to challenges like supply chain issues and project delays. Consequently, even companies that had maintained a decade-long growth trend were not immune to these effects."

Despite the challenging global economic environment, some companies on the list managed to achieve growth in reverse. The financial data in their reports is quite impressive. The key factor contributing to the growth of these companies is their effective supply chain management.

"The threat of the pandemic continues to impact the security industry, causing shifts in global market demand and supply chains. To address these challenges, we have been leveraging innovative technologies and product solutions to meet diverse market needs while maintaining close collaborations with global partners to ensure sustainable development," emphasized Keen Yao, Vice President of Digital Technology at Hikvision.

"Faced with a complex and rapidly changing market environment, Dahua has ensured project deliveries through two strategies: investing in research and development to ensure product stability and innovation, and building up inventory, enhancing technical support, forming strategic partnerships with suppliers, and securing a stable supply of raw materials. Additionally, Dahua continues to drive technological innovation, strengthen core technologies, and accelerate the deployment of new products, which significantly expands the application possibilities of Dahua solutions," stated Fu Liquan, Chairman of Dahua Co., Ltd.

"During the pandemic, supply chains across various industries faced unique disruptions, a challenge that companies had to confront during this exceptional period. Axis has been dedicated to establishing a robust supply chain system over the past decade, which has bolstered our resilience to risks. In response to the pandemic, we intensified our cooperation with global suppliers while actively seeking positive solutions to address current issues," shared Axis CEO Ray Mauritsson.

In these times, it's crucial to provide solutions that align with users' needs. "During the pandemic, the demand for contactless solutions continued to rise. Anlanjie promptly responded to the market's needs by introducing anti-pandemic security products and solutions to fulfill our mission of 'creating a seamless and safe world for our customers,' providing users with a more secure and convenient experience," said Vince Wenos, Senior Vice President and Chief Technology Officer of Anlanjie.
Industry recovery is inevitable
As the impact of the pandemic diminishes, the global security industry is poised for a recovery. "We anticipate that the industry will commence its rebound in 2021. Many security companies have tailored solutions to combat the pandemic. Simultaneously, numerous projects that had been postponed due to the pandemic have resumed, and user budgets and investments are returning to normal. Hence, we estimate that the industry can achieve a growth rate of 3-5% in the coming years. While it may not immediately return to pre-pandemic levels, it's a promising start. By the end of 2022, we expect the industry growth rate to rebound to 7-10%," stated VanZandt.

"In the first half of 2021, Dahua reported revenues of US$2.09 billion, marking a remarkable year-on-year increase of 37.27%. Net profits reached US$254 million, with a year-on-year increase of 20.03%. These figures reinforce Dahua's positive outlook for the future. Leveraging years of industry experience, Dahua has ventured into new business domains. Whether it's smart home solutions or smart city solutions, powered by cutting-edge technologies like artificial intelligence, the demand for intelligent solutions from users is on the rise. This will become a significant growth driver for Dahua in the future," highlighted Fu Liquan.

"The market's expectations for security products and solutions continue to rise. We believe that new technologies will drive product and solution innovation to meet diverse user needs. For instance, small and medium-sized business users are undergoing digital transformation, seeking cost reduction and increased efficiency. There's a strong demand for integrated and intelligent solutions, which can effectively meet users' requirements in this regard," added Keen Yao.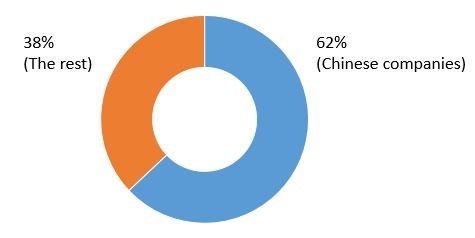 Revenue growth of some of the top 50 global security companies in the first half of the fiscal year (2020-2021)
Summarize
It is undeniable that there will be "abnormal" phenomena in the development of various industries in 2022. This is evident from the top 50 list of global security companies, which has more loss-making companies than profitable ones. In spite of global challenges, some companies, however, were still able to achieve reverse growth if they were flexible, innovative and had a forward-looking layout. 
Outdoor Security Cameras