An in-depth guide to (Pan-Tilt-Zoom) PTZ cameras
2023-09-12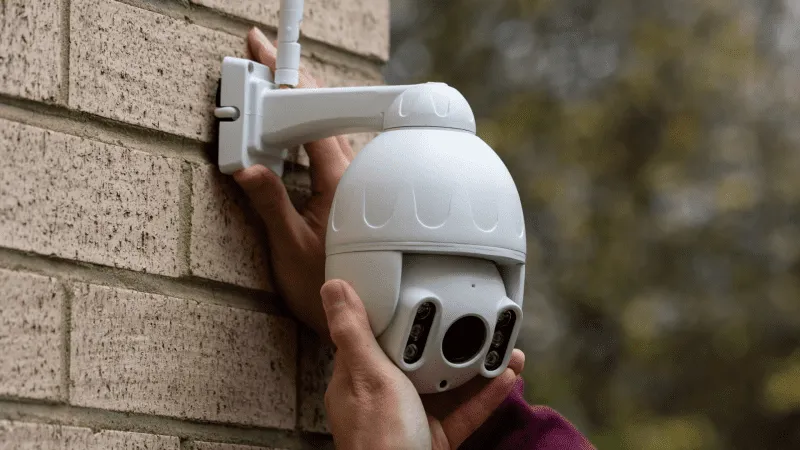 During the last decade, PTZ cameras have gained a lot of popularity due to the fact that they allow you to set the framing of the video and to control the zoom remotely. Although major manufacturers such as Sony, Canon, and JVC have developed these cameras, they do not necessarily meet the needs of professional videographers.
What is a PTZ (Pan, tilt, zoom) Camera?
A PTZ camera, which stands for Pan, Tilt, Zoom camera, is a type of surveillance or security camera that provides the ability to remotely control the camera's orientation and zoom capabilities. PTZ cameras are widely used in various applications, including video surveillance, live event coverage, broadcasting, and more. 

PTZ cameras are different from fixed cameras in that they are capable of panning (horizontal movement), tilting (vertical movement), and zooming functions remotely. This allows users to survey a wide area using a single camera in a different way.
How does a PTZ Camera work?
PTZ cameras have motors that enable them to move seamlessly in multiple directions. A PTZ controller can be a dedicated joystick, a mobile app, or a computer program that allows users to control the camera's movement.

With the pan feature, the camera can be rotated horizontally, allowing it to cover a large area. The tilt feature allows the camera to be positioned vertically, enabling observations from different elevations, and the zoom feature allows for close-ups without compromising image quality.
What are the types of PTZ Cameras?
There are several types of PTZ (Pan, Tilt, Zoom) cameras available, each designed to cater to specific needs and applications. The types of PTZ cameras can be categorized based on their primary functions, features, and intended use. Here are some common types of PTZ cameras:

Outdoor PTZ Cameras: These PTZ cameras are designed for outdoor use and are built to withstand various weather conditions, including rain, snow, and extreme temperatures. They often come with weatherproof or vandal-resistant enclosures to protect the camera and its components.

Indoor PTZ Cameras: Indoor PTZ cameras are typically used in indoor environments such as offices, retail stores, and indoor facilities. They may not have the same level of weather resistance as outdoor models but are designed for controlled indoor conditions.

Speed Dome PTZ Cameras: Speed dome cameras are a specific type of PTZ camera that is known for their rapid movement capabilities. They can pan, tilt, and zoom quickly, making them suitable for tracking fast-moving subjects or capturing dynamic scenes. Speed dome cameras are often used in surveillance scenarios that require quick responses.
IR (Infrared) PTZ Cameras

:
IR PTZ cameras are equipped with infrared LEDs or illuminators that enable them to capture high-quality images in low-light or nighttime conditions. These cameras can provide visibility in complete darkness, making them ideal for nighttime surveillance.

Network PTZ Cameras: Network PTZ cameras connect to the internet or a local network, allowing users to control and monitor the camera remotely via computer, smartphone, or other network-connected devices. They often support features like remote viewing, recording, and alerts.
Where are PTZ Cameras Used?
A PTZ camera's versatility and power make it useful in many settings. PTZ cameras are commonly used in the following settings:
Security and Law Enforcement: PTZ cameras are employed in security and law enforcement to monitor public spaces, government buildings, transportation hubs, and critical infrastructure. They help authorities respond to incidents, track suspicious activities, and enhance overall security.
Traffic Monitoring: PTZ cameras are used to monitor traffic conditions on highways, roads, and intersections. They help traffic management centers monitor traffic flow, detect accidents, and manage congestion.

Wildlife Observation: Wildlife researchers and enthusiasts use PTZ cameras to observe and study animals in their natural habitats. These cameras allow for remote monitoring without disturbing wildlife.
Live Event Coverage: PTZ cameras are common in live event production, including sports broadcasts, concerts, conferences, and church services. They can capture dynamic shots, follow the action, and provide viewers with various angles.
Benefits of PTZ Cameras
There are several advantages to Pan-Tilt-Zoom cameras that make them popular in surveillance systems:

Wide Coverage: Compared to fixed cameras, pan-tilt-zoom cameras cover a larger area, reducing the number of cameras needed.

Flexible Monitoring: Pan-Tilt-Zoom cameras can be controlled remotely, allowing users to focus on specific regions or track moving objects. They can also track motion or be programmed to pan according to schedules.

Zooming Capabilities: The Pan-Tilt-Zoom camera provides high-quality optical zoom, which is helpful for license plate recognition as well as for capturing clear details from distances up to 25x.

Microphone capability: The majority of PTZ cameras come equipped with a built-in microphone, but a separate mic and headset are recommended for professional, online conversations.
PTZ Camera Features
Must-Have Features:
High Resolution: Ensure that your PTZ camera has high resolution capabilities in order to ensure clear and detailed footage. This will prevent blurring of faces or license plates when zoomed in.
Pan and Tilt Speed: If you want smooth movement control, choose cameras with adjustable pan and tilt speeds. This will ensure that you won't miss anything.
Optical Zoom Range: PTZ cameras cover wider areas, so they should have a higher zoom to handle faraway objects. Wide optical zoom range allows for flexible coverage and close-ups.
Preset Positions: Preset positions and pan times can be programmed for quick surveillance at specific locations.

Additional features:
Night Vision: Infrared night vision cameras help detect and see motion in the dark for round-the-clock surveillance.
Two-Way Audio: Communication between users and subjects is possible with two-way audio cameras, but the audio quality for most models is substandard and requires a separate system for professional use.
Weather Resistance: In order to withstand harsh environmental conditions, such as extreme rain, extreme sunlight, and any other weather anomaly, outdoor PTZ cameras should be weatherproof.
Things to consider when buying an PTZ Camera
Before purchasing a PTZ camera, keep these factors in mind:
Purpose and Use Case:
Determine why you need an IP camera. Is it for home security, business surveillance, monitoring pets, or some other purpose? Understanding your use case will help you select the right features and specifications.
Budget:
Set a budget for your IP camera purchase and stick to it. Prices can vary widely based on features and specifications.
Integration and Compatibility:
If you plan to integrate the camera with other smart home or security systems, make sure it's compatible with your existing devices and platforms.
Brand and Reviews:
Research reputable brands and read user reviews to get insights into the reliability and performance of the camera you're considering
Conclusion
Providing a powerful and versatile surveillance solution, Pan-Tilt-Zoom cameras are an excellent addition to any security setup and monitoring application due to their remote control capabilities, wide coverage, and high-quality images. To make an informed decision when buying a Pan-Tilt-Zoom camera, consider the essential features, additional functionalities, and compatibility with your existing infrastructure.