Types of CCTV Camera Mounting Brackets: A Comprehensive Guide
2023-09-28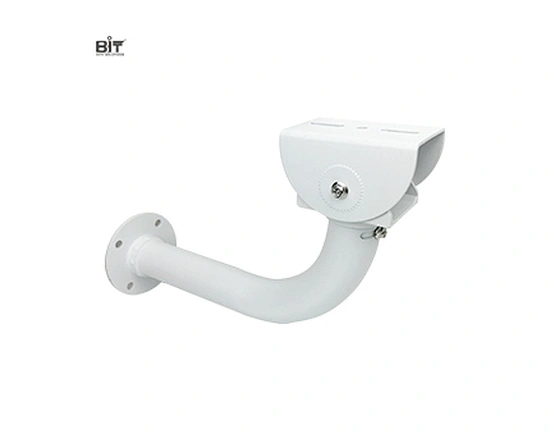 When it comes to setting up a CCTV camera system, choosing the right mounting bracket is often an overlooked but crucial decision. Mounting brackets determine the camera's stability, positioning, and field of view, making them an essential component of any surveillance setup. In this comprehensive guide, we'll delve into the various types of CCTV camera mounting brackets available, their advantages, installation tips, and factors to consider when selecting the ideal bracket for your security needs.
1. Wall-Mounted Brackets:

Wall-mounted brackets are a popular choice for securing CCTV cameras. These brackets are attached directly to the wall, allowing cameras to be positioned at a fixed angle. They are ideal for monitoring specific areas such as entrances, hallways, or corridors. Wall-mounted brackets offer stability and ease of installation.

Benefits:
Stable and secure placement.
Easy installation on vertical surfaces.
Ideal for indoor and outdoor use.
2. Ceiling-Mounted Brackets:

Ceiling-mounted brackets provide a discreet and elevated positioning for CCTV cameras. They are commonly used in indoor settings, offering an unobtrusive surveillance solution. Ceiling mounts allow cameras to cover large areas, making them suitable for open spaces like retail stores or offices.

Benefits:
Discreet surveillance.
Comprehensive coverage of open areas.
Concealed wiring for a tidy appearance.

Pole-mounted brackets are designed for outdoor surveillance. They allow cameras to be securely attached to poles or posts, making them ideal for monitoring parking lots, streets, or outdoor facilities. Pole mounts are known for their versatility and ability to withstand harsh weather conditions.

Benefits:
Excellent for outdoor installations.
Versatile positioning on poles.
High durability and resistance to weather elements.
4. Corner-Mounted Brackets:

Corner-mounted brackets are engineered to fit into corners, providing a wide-angle view of intersecting walls or corridors. They are perfect for areas where walls meet at right angles. Corner mounts optimize camera placement in confined spaces.

Benefits:
Utilizes corner spaces efficiently.
Maximizes coverage in tight spots.
Suitable for both indoor and outdoor use.
5. Pendant-Mounted Brackets:

Pendant-mounted brackets offer flexibility in camera positioning. They are suspended from the ceiling and allow for precise adjustment of camera angles. Pendant mounts are commonly used in areas requiring unique camera orientations.

Benefits:
Adjustable camera angles.
Ideal for customized surveillance angles.
Suitable for various indoor settings.
6. Junction Box Brackets:

Junction box brackets provide a protective housing for CCTV cameras. They safeguard cameras from environmental factors while offering flexibility in mounting options. Junction box mounts are often used in outdoor installations to protect cameras from dust, moisture, and vandalism.

Benefits:
Protects cameras from environmental elements.
Conceals and secures wiring connections.
Enhances camera longevity.
7. PTZ Camera Brackets:

PTZ (Pan-Tilt-Zoom) camera brackets are designed to support PTZ cameras that offer pan, tilt, and zoom functionalities. These brackets allow for dynamic camera control and are commonly used in applications where remote monitoring and tracking are essential.

Benefits:
Dynamic camera control.
Suitable for tracking moving objects.
Enhanced surveillance capabilities.
Installation Tips for CCTV Camera Mounting Brackets
Choose the Right Location:
Before mounting your CCTV camera brackets, carefully select the camera's location. Consider factors such as lighting conditions, potential obstructions, and the camera's field of view. Ensure that the chosen location provides easy access for maintenance and adjustments.

Use Quality Mounting Hardware:
Invest in high-quality mounting hardware to ensure stability and durability. Stainless steel or weather-resistant hardware is ideal for outdoor installations, as it can withstand harsh environmental conditions.

Wall Material Matters:
Select the appropriate anchors or screws based on the wall material where you're mounting the bracket. Use anchor bolts for concrete or brick walls and wood screws for wooden surfaces.

Leveling and Alignment:
Use a spirit level to ensure the mounting bracket is perfectly aligned, whether horizontal or vertical. Proper alignment is crucial for clear and accurate footage.

Weatherproofing for Outdoor Installations:
Protect outdoor CCTV cameras from the elements by using weatherproof enclosures or junction boxes. Apply silicone sealant to prevent moisture intrusion.

Cable Management:
Secure and organize cables using clips or conduit to maintain a neat appearance and prevent obstructions.

Regular Maintenance:
Establish a maintenance schedule to inspect for loose screws, corrosion, or damage. Clean camera lenses and housings regularly.

Test Your Setup:
Before finalizing the installation, thoroughly test your CCTV camera system. Verify camera angles, night vision, motion detection settings, and video feeds.
Bitcctvsolutions
offers a variety of mounting brackets to install network cameras or camera housing & enclosures in video security projects, including wall mount brackets, pole mount brackets, corner mount brackets, as well as accessories such as universal joints and clamps. We have years of experience installing video security cameras and have developed these mounting brackets using high quality aluminum alloys or stainless steel with convenient designs.
Factors to Consider When Choosing a Bracket
When choosing a CCTV camera mounting bracket, you should consider the following factors.

Camera Type and Weight:
Determine the type and weight of your CCTV camera. Different brackets are designed to accommodate various camera sizes and weights. Ensure that the bracket you choose can securely support your camera model.

Mounting Location:
Consider where you intend to install the camera. Different locations, such as walls, ceilings, poles, or corners, require specific bracket types. Assess the environment to ensure compatibility.

Adjustability and Angles:
Evaluate the level of adjustability you need. Some brackets offer limited tilt and pan angles, while others provide full 360-degree rotation. Choose a bracket that allows you to position the camera precisely.

Indoor or Outdoor Use:
Determine if the camera will be installed indoors or outdoors. Outdoor brackets must be weatherproof and resistant to harsh environmental conditions like rain, snow, and extreme temperatures.

Material and Durability:
The material of the bracket affects its durability. Stainless steel and aluminum brackets are corrosion-resistant and suitable for outdoor use. For indoor installations, sturdy plastic or steel brackets may suffice.

Ease of Installation:
Opt for brackets that are easy to install and come with clear instructions. Some brackets feature quick-release mechanisms for convenient camera maintenance.

Cable Management:
Consider brackets with built-in cable management features to keep cables organized and protected. This helps maintain a clean and tidy installation.

Vandal Resistance:
In high-risk areas, choose brackets with vandal-resistant features like tamper-proof screws and sturdy construction to prevent tampering or damage.

Aesthetics:
Depending on the installation location, you may want to consider the bracket's aesthetics. Some brackets are designed to blend seamlessly with their surroundings for a discreet appearance.

Cost and Budget:
Set a budget for your CCTV camera mounting bracket. While quality is essential, there are brackets available at various price points. Balance your requirements with your budget.