How to Install CCTV Camera Step by Step: A Comprehensive Guide
2023-11-06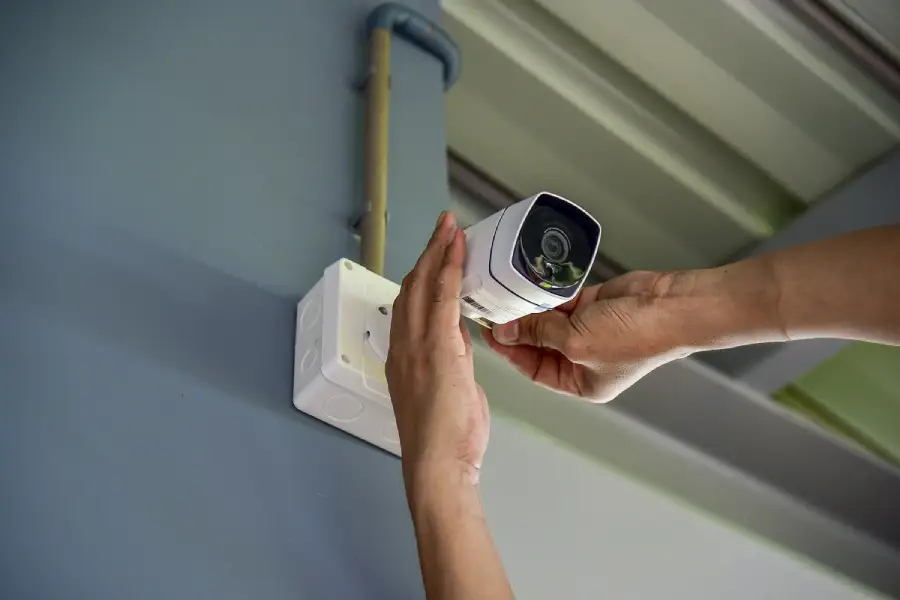 CCTV cameras are becoming a significant component of modern security systems. Whether you want to protect your home, your office, or any other property, installing CCTV cameras can make you feel more relaxed and secure while at the same time providing you with the peace of mind you need. 

The purpose of this guide is to explain what CCTV cameras are and how they work, as well as to walk you through the installation process, from the planning and selection of equipment to the installation and maintenance of the cameras. You can set up an effective surveillance system tailored to your specific needs by following this comprehensive guide.
What Is a CCTV Security Camera?
A CCTV (Closed-Circuit Television) security camera is a video surveillance device designed for monitoring and recording activities in a specific area or location. It is part of a closed-circuit system, meaning the video feeds are transmitted to a limited number of monitors or recording devices, as opposed to being publicly broadcast.
How Do CCTV Cameras Work?
CCTV security cameras are usually installed in strategic locations, often near entrances to buildings, where they monitor a wide area and record video.

CCTV cameras can store video footage locally or in the cloud to store data remotely. From there, the CCTV camera owner can review recordings.

The majority of CCTV cameras are also capable of being watched live while they are recording.
Types of CCV Cameras
A variety of CCTV camera types are available, each tailored to specific applications. Some commonly used types include:
Dome Cameras: Dome cameras feature a discreet dome-shaped housing, making them ideal for indoor use. They offer wide-angle coverage and are frequently employed in retail settings, businesses, and residential environments.
Bullet Cameras: Bullet cameras have a cylindrical shape and are often weatherproof, making them suitable for both indoor and outdoor surveillance. Their visibility makes them a preferred choice for monitoring parking lots, entrances, and outdoor areas.

PTZ Cameras (Pan-Tilt-Zoom)

: PTZ cameras provide the capability to pan, tilt, and zoom remotely, allowing horizontal and vertical rotation. These cameras offer flexible coverage and are commonly used in expansive areas like stadiums, parking lots, or industrial sites.
IP Cameras: IP cameras transmit video over an IP network, facilitating remote access and scalability. They deliver high-resolution images and advanced features, making them suitable for a wide range of applications, from small businesses to extensive surveillance systems.
Importance of CCTV Camera Installation
The installation of CCTV cameras holds significant importance for a variety of reasons, encompassing security, safety, and peace of mind. Here are key aspects highlighting the importance of CCTV camera installation:
Crime Deterrence: CCTV cameras act as a powerful deterrent against criminal activities such as theft, vandalism, and trespassing. The mere presence of visible cameras can discourage potential wrongdoers from targeting your property.
Evidence Collection: In the event of a security breach or unlawful activity, CCTV cameras capture crucial video evidence. This footage can be invaluable for investigations, identifying suspects, and providing evidence in legal proceedings.
Enhanced Security: CCTV cameras contribute to the overall security of your property, whether it's a home, business, or public space. They help monitor entrances, perimeters, and high-risk areas, providing an additional layer of protection.
Remote Monitoring: Many CCTV systems offer remote access, allowing you to monitor your property in real-time from anywhere with an internet connection. This feature is especially valuable for businesses, homeowners, and property managers.
Emergency Response: In emergency situations, such as break-ins, fires, or accidents, CCTV footage can be used to assess the situation, guide emergency responders, and aid in rescue efforts.
Prevent False Claims: In business settings, CCTV cameras help prevent false claims, disputes, and liabilities. Having recorded evidence of events can resolve conflicts and protect against fraudulent allegations.
Employee Productivity: In workplace environments, CCTV cameras can encourage employee accountability and productivity. Knowing they are being monitored may deter inappropriate behavior and boost work efficiency.
Visitor Monitoring: For residential and commercial properties, CCTV cameras help monitor visitors and deliveries. You can verify who is at the door before granting access, which is especially important for security-conscious individuals.
Reduce Insurance Costs: Installing CCTV cameras may lead to reduced insurance premiums, as insurance companies often offer discounts to properties with enhanced security measures.
Site Management: In construction and industrial settings, CCTV cameras aid in site management, ensuring safety compliance and monitoring ongoing projects.
Where to Place CCTV Cameras?
It is important to plan the placement of security cameras before installing them. You should also consider the length of the cables; they should be long enough to reach the nearest power sockets. You can also get a wireless system if you don't want to deal with wires.
| | |
| --- | --- |
| CCTV Installation Type                                                          | where to place security cameras |
| House | External front entrance, side entrance, back entrance, all windows and doors. Driveway for car. Storage areas, back and front garden, summerhouse, shed. Some houses have an alleyway at the rear with a detached garage so cover this too. |
| Office | For health and safety, stairways, outside lift area, entrance and exit, communal areas like canteen and server room/ comms room. |
| Warehouse | Loading bay, entrance and exit, fire exits, machinery operation areas covered for health and safety, external compressor/ oil storage areas. Communal areas, working areas for health and safety, e.g. production and packing areas. |
| Retail Store | Aisles, shelves, fridges, freezers, checkout area, entrance, exit. |
| Petrol Station | Islands (pumps), entrance and exit, retail sections inside shop, checkout. |
| Other Areas |  For example, storage locker areas. |
How to Install Security Cameras?
Tools You Need for CCTV Installation:
Ladder
Power drill
Drill bits – including masonry bits
Electric heavy-duty screwdriver
Small screwdrivers
Pencil and pen
Hammer
BNC crimp tool
Cable stripper
Cutter and Stanley knife
Pliers
Safety goggles, helmet, boots
Cable Rod Set & Fish Taps to feed cables in awkward places
Electrical tape to stick cables to rod
Labels to mark cable
Raw plugs
Electrical meter to check electricity
Video test monitor to plugin directly to camera, to adjust angle of camera
Network test tool
Follow these steps to install your CCTV system:
Mark and Drill: Begin by marking the spots where you'll attach the mounting bracket. Drill the necessary holes and insert raw plugs before securing the bracket with screws. For wired cameras, ensure the holes are large enough to thread the wiring back through the wall to connect to the monitoring source.
Camera Attachment: Attach and secure the camera in its designated location. Plug the power cord into a socket. While some wireless cameras operate without power cords, you may need to recharge their battery packs.
DVR/NVR Installation: Install the DVR (Digital Video Recorder) in a secure location. It's advisable to place it inside a locked compartment to protect your surveillance data. For wireless CCTV cameras, they use NVRs (Network Video Recorders), which can be installed in a similar manner.
Cable Pathways: Plan the cable pathways from the cameras to the DVR. For indoor cables, consider positioning them under carpets, near skirting boards, or close to ceiling cornices. Outdoor cameras benefit from wire mouldings to keep the cables stable and safeguarded from tampering.
Network Connection: Connect the network cable to your internet router. IP cameras typically use Cat 5 or Cat 6 cables, while analogue HD cameras require a BNC cable and a DC pin connector.
Camera to DVR/NVR: Connect each camera to the DVR or NVR. Then, link the DVR to the screen where you want to view the video feed. Using an HDMI connection for the monitor can provide a higher resolution.
Testing: Once all components are connected and powered on, check the video feed to ensure that the cameras are capturing their intended areas. Adjust their angles to eliminate blind spots. If any cameras aren't functioning, review the connections and network clips.
In conclusion, CCTV cameras play an increasingly vital role in modern security systems, providing peace of mind and enhanced safety for homes, offices, and various properties. This guide has covered the essential aspects of CCTV security cameras, from their functionality to the various types available and the significance of professional installation. Understanding the placement and installation of security cameras is crucial for an effective surveillance system tailored to your specific needs. Whether you opt for wired or wireless systems, the comprehensive knowledge shared in this guide empowers you to make informed decisions and maintain a secure environment.
Bit-CCTV
, a reliable manufacturer for surveillance camera, is good at listening and caring.
Taking advantage of our in-depth knowledge of security solutions, BIT-CCTV's professional design and engineering team always listens to our customers and care about every detail in their requirement, and commits to providing tailored custom products/solutions for their systems and applications.rder online 24/7 or contact a Pro today at 86-139-2068-8922.