What Is PTZ Camera:A Complete Guide
2023-11-15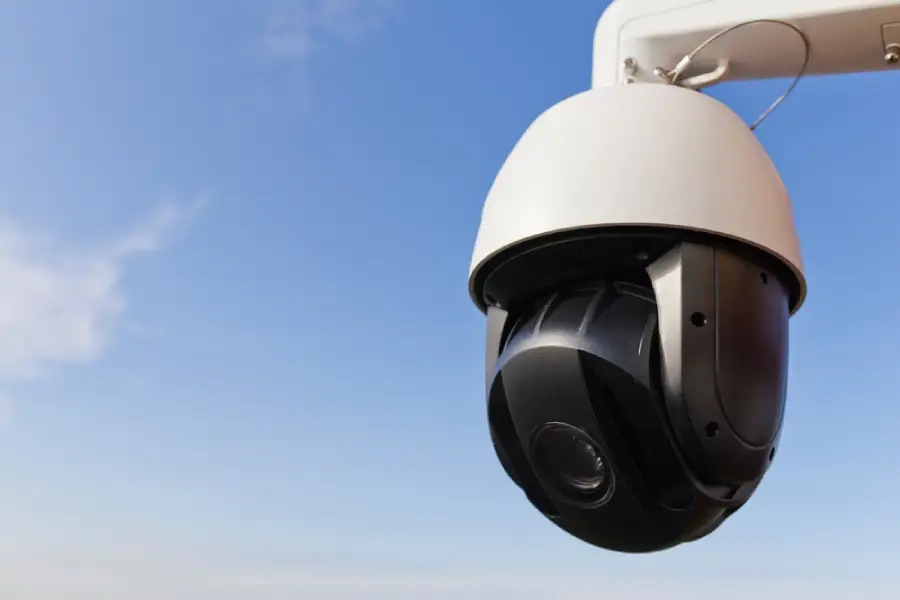 The pan-tilt-zoom camera (PTZ) has mechanical components that enable it to swivel left and right, tilt upward and downward, and zoom in and out. It is typically deployed at guard stations to monitor wide areas that require 180- or 360-degree views, and the camera controller can be used by active personnel. It is also possible to set them to automatically follow motion-triggered activity or to follow a predetermined schedule, depending on the camera or software. Generally speaking, PTZ cameras are used in conjunction with a larger surveillance system, in which the PTZ tracks movement and a fixed camera takes detailed images.
Pros and Cons of PTZ Security Cameras
Each CCTV camera has pros and cons, and each is suited to performing a specific function when it comes to protecting your premises. Here are the pros and cons of PTZ cameras.
Advantages of PTZ Cameras
Versatility: PTZ cameras provide flexibility in monitoring a wide range of areas. With the ability to pan, tilt, and zoom, a single PTZ camera can cover a large area that might require multiple fixed cameras.
Remote Monitoring and Control: PTZ cameras can be remotely controlled, allowing operators to adjust the camera's position, angle, and zoom level from a centralized location. This is especially beneficial for real-time monitoring and responding to events as they unfold.
Auto-Tracking: Some PTZ cameras are equipped with auto-tracking capabilities, which enable the camera to automatically follow moving objects or individuals. This feature is valuable in applications where continuous surveillance of a specific target is required.
Presets and Patterns: PTZ cameras can be programmed with preset positions and patterns, enabling them to automatically move between different viewpoints. This is useful for covering specific areas at scheduled intervals or responding to predefined scenarios.
Disadvantages of PTZ Cameras
Limited Perspective: The versatility of pan-tilt-zoom cameras introduces a potential drawback. If a PTZ camera isn't focused on a particular area, it may miss events occurring there. Although the PTZ camera can swiftly cover a broad field of view, there are intervals where activities may go unnoticed, emphasizing the need for fixed cameras to address these gaps.
Surveillance Blind Spots: When a PTZ camera is set to follow a predetermined route or operate on auto mode, it may continuously pan to the next preset position without regard for ongoing activities in its field of view. While having a manned guard control the camera is an effective solution, it entails additional labor costs. Alternatively, employing analytics on the PTZ camera to track movement, in conjunction with a fixed camera, can provide a comprehensive field of vision and recording as needed.
Shorter Equipment Lifespan: The presence of moving parts in PTZ cameras increases the risk of malfunctions compared to fixed solutions. Regular preventative maintenance can help mitigate these issues and extend the camera's operational life.
Types of PTZ Cameras
PTZ IP Camera:A PTZ IP camera is a surveillance camera that combines the features of a Pan-Tilt-Zoom (PTZ) camera with Internet Protocol (IP) technology. These cameras can be connected to an IP network, allowing for remote monitoring, control, and data transmission over the internet.

Outdoor PTZ Camera:An outdoor PTZ camera is a type of Pan-Tilt-Zoom camera specifically designed for surveillance and monitoring in outdoor environments. These cameras are built to withstand various weather conditions and are often enclosed in durable, weatherproof housings. The outdoor PTZ camera combines the flexibility of pan, tilt, and zoom functionality with the ruggedness required for exposure to the elements.

Wireless PTZ Camera: A Wireless PTZ Camera is a type of surveillance camera that combines the features of a Pan-Tilt-Zoom (PTZ) camera with wireless connectivity. These cameras utilize wireless technology, such as Wi-Fi, to transmit data, enabling more flexible installation options compared to cameras that rely on wired connections.
Where PTZ Cameras Are Commonly Used
PTZ cameras are used in different locations and in various situations.A few of the most suitable use cases are listed below:
Supermarkets
Airports
Large outdoor areas
Churches
Museums
Construction Sites
Retail sites
Industrial parks
What to Consider When Buying a PTZ Camera
Although PTZ cameras may be useful for your production needs, you shouldn't rush out and buy them without learning how you can customize them to meet the aforementioned requirements. In order to update your inventory with high-quality and useful equipment, you can check out what to look for when choosing a PTZ camera.
Tech Specs
It is important to keep in mind the technical specifications when browsing PTZ cameras. PTZ cameras vary in a number of ways, as with any other camera. For instance, there are models that support 4K resolution at 60 frames per second. You can also find PTZ cameras that support 1080p at 60 frames per second, if that is all you need for your production.

Hence, you need to carefully read through PTZ camera listings online; each detail will help you determine how the camera will affect your project. What kind of zoom capabilities would you like from the camera? You can find models with 12x or 20x optical zooms that meet your needs.
Mounting Location
When choosing a PTZ camera, you need to take into account the location of the set beyond the details above. This is a helpful detail to consider when shopping because equipment requirements vary depending on how you're going to use the camera.

When shopping, keep your application in mind when choosing the best approach for your PTZ camera arrangement. Additional support systems can be found for ceiling-mounted or wall-mounted PTZ configurations.
Optimal Quantity 
How many PTZ cameras are required for your production? The compact nature of PTZ cameras makes them well-suited for collaborative use when extensive coverage is necessary.
This allows you to efficiently encompass a broad array of perspectives, leveraging the pan, tilt, and zoom functionalities inherent in these devices. The cameras' manageable size and weight further facilitate a seamless experience when relocating them within the set to discover the optimal angle.
BIT-CCTV
offers a comprehensive and diverse range of pan-tilt products and solutions, providing a one-stop professional service. Our product lineup encompasses light, medium, and
heavy-duty pan-tilt heads/positioners
, network IP PTZ cameras, vehicle-load network IP PTZ cameras, infrared/laser night vision network PTZ cameras,
long-range laser network PTZ cameras,
infrared thermal imaging PTZ cameras, optical/infrared thermal imaging dual vision PTZ cameras, explosion-proof network IP PTZ cameras, explosion-proof bullet cameras, explosion-proof dome cameras, and various CCTV accessories, including
camera housing/enclosures
,
camera mounting brackets
, and power supplies.
In addition to our standard product offerings, as a CCTV surveillance solutions manufacturer, we provide custom design services to meet the diverse demands of our customers. OEM options are also available. For further details about our services, please contact us today to discuss your specific needs