Best Heavy-Duty Pan Tilt Head for Sale--BIT-PT850
2023-10-30
The world of photography and videography is a realm of precision, where every angle and movement matters. In this pursuit of perfection, the pan and tilt head emerges as a true ally to photographers and videographers, offering the gift of precise control over their camera's orientation. Often referred to as a pan-tilt head, this specialized camera accessory adds an exquisite dimension to the art of capturing moments.
What Is Pan and Tilt Head?
A pan and tilt head, often referred to as a pan tilt head or pan-tilt head, is a specialized camera accessory used in photography and videography to provide precise control over the camera's orientation. It allows the camera to pan horizontally (left and right) and tilt vertically (up and down) while remaining securely mounted on a tripod or other support.
The primary functions of a pan and tilt head include:
Pan (Horizontal Movement): The panning function allows the camera to swivel horizontally, enabling you to capture scenes or subjects from different angles without moving the entire camera setup. This is particularly useful for shooting panoramic landscapes, following moving subjects, or creating sweeping shots in videography.

Tilt (Vertical Movement): The tilting function allows the camera to move up and down, making it possible to frame shots from different vertical perspectives. It is commonly used for framing subjects at varying heights or for capturing overhead or low-angle shots.

Pan tilt heads are popular in various applications, including wildlife photography, studio photography, videography, live broadcasting, and surveillance. They offer precise and smooth control over camera movements, enhancing the quality and versatility of your shots. Some pan  tilt heads also come with additional features like fluid dampening, counterbalance systems, and fine-tuning adjustments to further improve control and stability. These accessories are an essential tool for photographers and videographers looking to achieve professional and dynamic shots.
Pros of a Pan and Tilt Head:
Sturdiness.Several large size camera rigs feel safe on a light weight pan/tilt head. Reviewing some of the options out there, I can find some really heavy duty heads at very reasonable prices. The 3-way heads are even stronger. The only head that is more sturdy than a well made 3 way pan and tilt head is a gimbal, and those aren't cheap either.

Reliably repeatable.Instructive and alliterative! How do you like me now? It's easy to set it back up in the same place, whether you're a regular pan/tilt or a three-way. For budget-conscious studio photographers, for instance, who have to move from one spot to another and back again to get the next client, this is an important consideration.

No creep. An unattended rig that creeps can tip over, bringing with it a catastrophe we want to avoid. We are referring here to the tendency for a ball head with the camera mounted to slowly succumb to gravity and move and move.
Best Heavy-Duty Pan Tilt Head for Sale--

BIT-PT850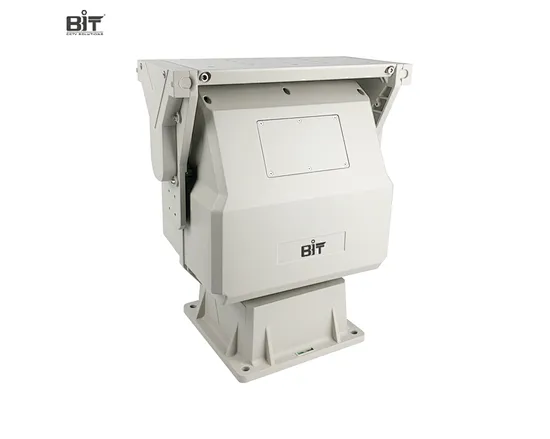 In the world of advanced surveillance and precise positioning, the BIT-PT850 heavy-duty pan tilt head/motor stands out as a high-quality solution. With an impressive maximum load capacity of 50kg (110.23lb), this versatile system is not only ideal for long-range video security but also for a wide range of applications where accuracy and robustness are paramount.
The BIT-PT850 is a high-quality motorized pan tilt head with a maximum load capacity of 50kg/110.23lb (two side load types are available), and based on our customized service, it could be the ideal choice for your pan tilt positioning system for a wide range of applications, including long range video security, as well as any other project that requires precise positioning of heavy objects on top or on the side.
BIT-PT850 heavy-duty motorized pan tilt head boasts 0.1 degree preset movement accuracy at maximum speed at a combination of powerful, high-accuracy & low vibration stepper motors and precision machined worm/gear drive transmissions. With loaded objects of 50kg, pan speed is 30 degrees/second.
The BIT-PT850 can be used in both analog and IP-based video surveillance systems. BIT-PT850 supports coordinate feedback via command query or real-time, as well as control for further development of programs/systems based on PELCO P/D protocol and RS485/RS422 serial port communication standards.
Our PT850 heavy-duty pan tilt head/motor has been one of our best sellers for years and is widely used in many types of environments such as military infrastructure, highways, coasts, forests, marine and city high points with all the customized options you could possibly need, including rotation angle, cable wiring, military connector, paint colors, and three-proof coating, etc. 
We also offer large size camera housings/enclosures as part of our camera housing product line to save our customers' time. 
The company also provides long range laser night vision PTZ cameras with a 2km/3km/6km range, thermal imaging PTZ cameras, and dual sensor PTZ cameras (HD visible and thermal imaging) for customers who are not familiar with PTZ camera design. You can find more information on PTZ CAMERAS at
www.bitcctvsolutions.com
.
If you would like more information about the BIT-PT850 heavy duty motorized pan tilt head and our custom design, please leave us a message, or send us an email to sales@bit-cctv.com, and we will get back to you as soon as possible.
Founded 15 years ago, Blue Icon (Tianjin) Technology Co. Ltd, a leading national high-tech company, is a company that designs, engineers, manufactures, and sells high-quality CCTV surveillance equipment, including pan-tilt heads and positioners, laser PTZ cameras of a long range, thermal imaging PTZ cameras, dual-vision cameras, housing enclosures for cameras, mount brackets for cameras and accessories, and custom pan-tilt products to meet the various system/project requirements of our customers. In addition to being made of durable materials, our products are tested to withstand continuous operation in the harshest conditions. Our products have been used in more than 40 countries across five continents for various applications.
What BIT-CCTV Provides
As a professional pan tilt head/positioner maker since 2005,BIT-CCTV is knowledgeable and experienced to provide our customers with both fixed configuration products:
Infrared Thermal Imaging Network IP PTZ Camera
Dual Vision Network IP PTZ Camera* Vehicle Load Network IP PTZ Camera
Explosion Proof Network IP PTZ/Fixed Camera
CCTV Security Accessories