BIT-PT850 Outdoor Heavy-Duty Pan Tilt Head with Payloads up to 50kg (110.23lb)
2022-11-10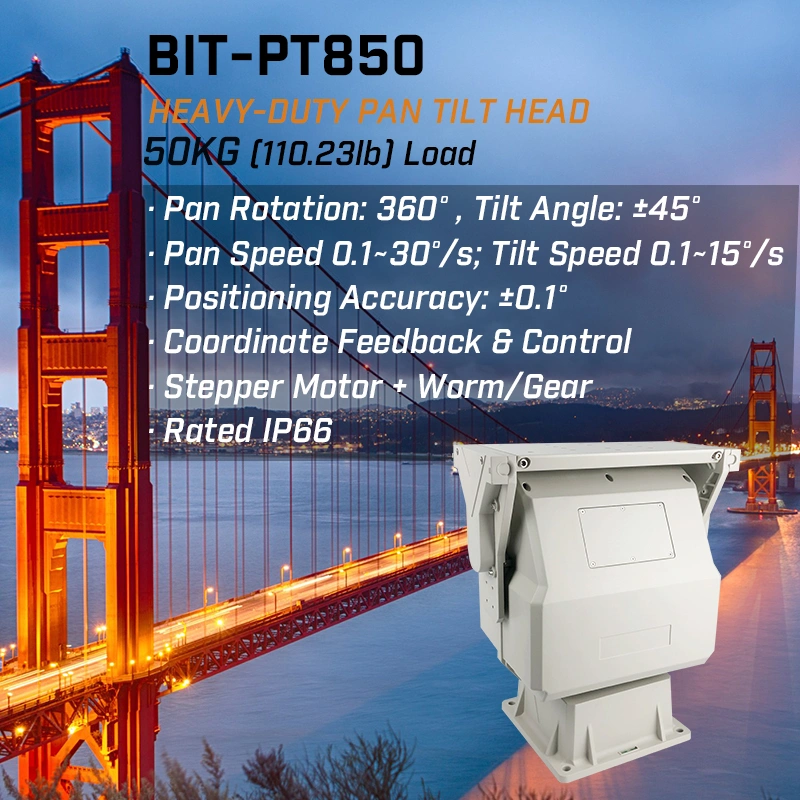 BIT-PT850 is a high quality heavy-duty pan tilt head/motor, with max. 50kg/110.23lb top load capacity (two side load type available), and based on our customized service, it can be an ideal choice for your pan tilt positioning system for various application demands, not just for long range video security, but also for any other projects demanding accurate positioning with heavy object on top or side of it.
Benefited by a combination of a powerful, high accurate & low vibration stepper motor, and precisely machined worm/gear drive transmission, BIT-PT850 heavy-duty pan tilt head/motor features up to ±0.1 degree preset movement accuracy at max. 30 degree/sec pan speed with 50kg loaded objects.
For video surveillance system, BIT-PT850 can be part of both analogue and IP based systems. Based on PELCO P/D protocol and RS485/RS422 serial port communication standard, BIT-PT850 supports coordinate feedback by command query or real-time, and control for further programming/system development.
With diverse customized options you could possibly need including rotation angle, cable wiring, military connector, paint colors and three-proofing coating, etc, PT850 heavy-duty pan tilt head/motor has been our bet seller for years and widely applied in many kinds of application environment like military infrastructure, highway, coast, forest, marine and city high point. 
To save our customer's time, large size camera housings/enclosures are also available among our camera housing product line. 
And for those customers that are not experienced in PTZ camera design and prefer to purchase integrated PTZ camera with ready configuration, we are also offering long range laser night vision PTZ camera with 2km/3km/6km options, thermal imaging PTZ camera, and dual sensor (HD visible and thermal imaging) PTZ camera. Please go to PTZ CAMERA pages at www.bit-cctv.com for more details.
For complete information of BIT-PT850 heavy duty pan tilt head and our custom design for your system, you may leave us message, or send us email to info@bit-cctv.com, and we will get back to use as soon as possible.
ABOUT BIT-CCTV:
Established 15 years ago, Blue Icon (Tianjin) Technology Co. Ltd, a national high-tech company, specializes in design, engineering, manufacturing and sales of high-quality CCTV surveillance equipment including pan-tilt head/positioner, long rang laser PTZ camera, IR thermal imaging PTZ camera, dual-vision PTZ camera, camera housing enclosures, camera mounting brackets and accessories, and provide custom pan-tilt products to meet our customers' various system/project requirements. Made with durable material, our products are tested to withstand continuous operation in the most harsh condition. Our products have been widely used in over 40 countries across five continents.