How to Choose a Pan Tilt Unit/Head | BIT-CCTV
2023-05-30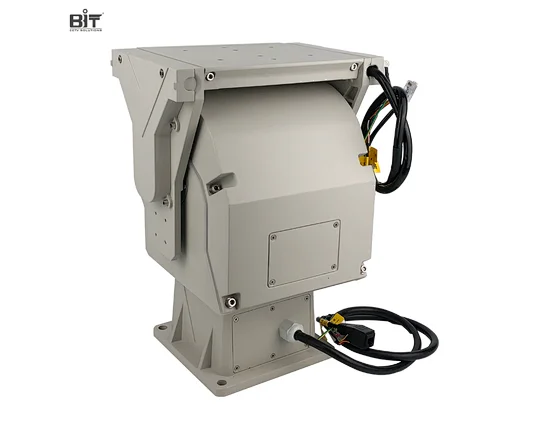 How to Choose a Pan Tilt Unit/Head?
A pan tilt unit, also known as a pan tilt head or PTU, is a device that allows for the rotation and tilting of a camera or other equipment. It is commonly used in various applications such as security systems, surveillance cameras, robotic systems, and photography/videography. Choosing the right pan tilt unit is crucial to ensure smooth and accurate movement while meeting your specific requirements. In this passage, we will discuss the key factors to consider when selecting a pan tilt unit/head.
1.Load Capacity: The load capacity of a pan tilt unit refers to the maximum weight it can support. Before choosing a pan tilt head, determine the weight of your equipment, including the camera, lens, and any additional accessories. It is important to select a pan tilt unit that can handle the weight of your equipment comfortably to ensure smooth and stable movement without any strain on the unit.
2.Range of Motion: Consider the range of motion required for your application. A pan tilt unit's range of motion includes both the horizontal (pan) and vertical (tilt) angles. Evaluate the area you want to cover and determine the desired range of movement. Some pan tilt units offer a full 360-degree pan rotation, while others have limited rotation angles. Similarly, the tilt range can vary from a few degrees to a full 90 degrees or more. Choose a pan tilt head that provides the necessary range of motion to capture the desired field of view.
3.Speed and Accuracy: The speed and accuracy of the pan tilt unit are essential factors, especially in applications that require tracking or rapid movement. Consider the maximum pan and tilt speeds offered by the unit. Higher speeds can be advantageous for fast-tracking movements, while slower speeds may be more suitable for smooth and precise positioning. Additionally, accuracy is crucial for maintaining the desired position and minimizing vibration or drift. Look for a pan tilt unit that offers a high degree of accuracy to meet your specific needs.
4.Control Options: Pan tilt units can be controlled manually or remotely. Manual control typically involves using handles or knobs to adjust the pan and tilt movements. Remote control options include wired or wireless interfaces, which allow for more flexibility and convenience, especially in applications where the pan tilt unit is installed in hard-to-reach or hazardous locations. Determine the control method that best suits your application and ensure that the pan tilt head you choose supports that option.
5.Mounting Options and Compatibility: Consider the mounting options available for the pan tilt unit and ensure compatibility with your existing equipment or mounting systems. Common mounting options include tripod mounts, ceiling mounts, wall mounts, or specific brackets designed for your application. Additionally, verify that the mounting interface of the pan tilt head is compatible with the camera or equipment you intend to use.
6.Power and Connectivity: Evaluate the power requirements of the pan tilt unit. Some units are powered by batteries, while others require a continuous power source. Consider the availability of power outlets or the need for battery-powered operation based on your installation environment. Furthermore, connectivity options such as USB, Ethernet, or RS-485 may be necessary for integrating the pan tilt unit into your control system. Ensure that the chosen unit provides the required connectivity options for seamless integration.
7.Build Quality and Durability: The build quality and durability of the pan tilt unit are crucial for long-term reliability. Look for units made from robust materials that can withstand environmental conditions and frequent use. Consider factors such as weather resistance, shock resistance, and corrosion resistance if the unit will be exposed to challenging conditions. A well-built pan tilt head will ensure smooth operation and longevity.
8.Budget and Brand Reputation: Lastly, consider your budget and the reputation of the brand. Pan tilt units vary in price depending on their features, capabilities, and build quality. Set a budget that aligns with your requirements and research different brands to find reputable manufacturers known for producing reliable and high-quality pan tilt units. Read reviews and seek recommendations to ensure you choose a reputable brand that offers good customer support and warranty options.
By considering these key factors, you can make an informed decision when choosing a pan tilt unit/head that meets your specific requirements. Whether it's for surveillance, photography, or other applications, selecting the right pan tilt unit will ensure smooth and precise movement, allowing you to capture the desired angles and perspectives effectively.
Recommended Pan Tilt Unit/Head: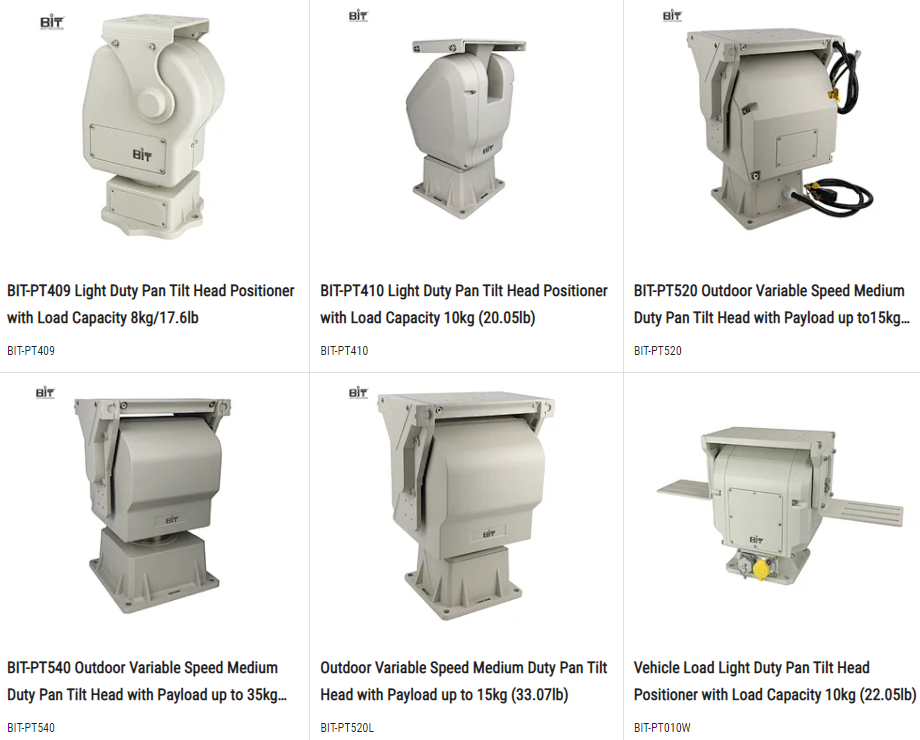 WHAT BIT-CCTV PROVIDES AND FOCUSES
As a professional pan tilt head/positioner maker since 2005, Bit-CCTV is knowledgeable and experienced to provide our customers with both FIXED CONFIGURATION PRODUCTS:
* Light/Medium/Heavy Duty Pan Tilt Head/Positioner
* Long Range Laser Network IP PTZ Camera
* Infrared Thermal Imaging Network IP PTZ Camera
* Dual Vision Network IP PTZ Camera* Vehicle Load Network IP PTZ Camera
* Explosion Proof Network IP PTZ/Fixed Camera
* Camera Housing & Enclosure
* Camera Mounting Brackets
* CCTV Security Accessories
And also CUSTOM DESIGN for integration into their systems:
Because of the high cost and complexity of PTZ camera systems and various demands of projects in different regions, the fixed configuration of our own developed PTZ camera systems sometimes is not considered as the perfect choice for those customers who are capable of developing their own PTZ systems with their solutions and technologies for unique market/system situation. Instead, we offer customized design based on customer's specific requirements and make modifications to our pan-tilt head and camera housings to support our customers build their systems for a win-win situation. Our experiences with custom design for CCTV surveillance solutions including but not limited to:
* Rotation Angle
* Real-Time Coordinate Feedback 
* Cable Wiring* Painting Color
* Military Connectors* Custom Camera Housing/Enclosure
* Optical Window Glasses
Whether your priority is top-of-the-line performance or the most cost-effective solution, we can design a custom system to integrate into your system.